CLOUDWORKS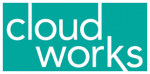 Cloudworks are a leading trusted Microsoft Partner that has the knowledge and expertise in delivering transformative Microsoft Cloud Technologies direct to your business.
Our credibility has allowed us to transform and deliver robust systems to some of the country's leading and well-known companies. We are dedicated in implementing intelligent solutions that help you get up and running quickly whilst increasing your organisations growth and dramatically reducing your costs.
We can take you through your digital transformation journey and help your business expand its capabilities. Responding to each client's specific needs, we offer a full suite of Cloud solutions and managed services to match.
Businesses that select Cloudworks as their cloud partner inherit the decades of IT strategy experience that our consultants have, along with our cutting edge insights into the current best practices & future of cloud computing. We're genuinely excited about the productivity, communication & cost reductions we can bring to your business.
We're extremely proud of the successful business transformations we've lead with our customers, how we have streamlined & automated manual processes, reducing wasted time whilst improving communications and collaboration & we would love to explore how we could help your business.