HICKMAN AND JAMES LTD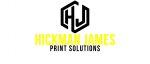 A forward thinking, innovative print and marketing solutions provider based in Nottingham. Our professional services help save money and best use your budget to promote your brand. We are all about building customer relationships, promoting your brand and educating your audience. We deliver excellence in the production of all types of printed materials and offer a full installation service. Using our personal approach, we are dedicated to saving you time, money and effort, and we pride ourselves on our fantastic relationships with clients and the results we have achieved for them. We can analyse your total direct mail marketing spend across print, production and postage and provide cost saving alternative. We offer a free consultation to help identify your requirements and best use of your budget and more than happy to visit customers face to face to build a better relationship. We have worked with some of the largest brands in the UK and understand what is required to support any company on their print and marketing needs.
Services include: business cards, letterheads, folders, flyers, posters, calenders, packaging, tent cards, menus, stickers, coasters, booklets, doorhangers, pricing strips, vouchers, copy pads, signage, directional boards, FSDUs, CTUs, vinyl, vehicle graphics, vehicle wraps, paper, di bond, foamex, acrylics, exterior signage, fluted board, wood printing, exhibition graphics, installation, creative, innovations, large format, small format, screen print, Litho print, Lithography, digital print, CAD, CNC. Fulfilment, assembly, pull ups, pop ups, digital screens, wall papers, clothing, merchandise, promotional, logo design, branding, photography, CD duplication, mugs, merchandise, paper cups, promotional products.