Water Treatment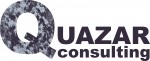 Quazar consulting is an innovation management and technology development company.
Innovation is key to business growth and survival. However, a lot of enterprises do not always have a structured approach to innovation. Quazar Consulting provides services to businesses, who want to innovate, grow and profit through innovation. With you, we look into all aspects of innovation. We put commercialisation and business development at the heart of your innovation strategy, from the concept stage through the project development and to product deployment.
Our aim is to integrate innovation into your standard business processes so that innovation becomes a "business as usual" feature of your company.
Your company
Growing your company's innovation expertise and commitments helps you develop the great products and services of tomorrow and ensure successful acquisition and integration of new knowledge.
Defining your innovation position and aspirations
Maximise the innovation potential of your team
Understand and Minimise the inerrant risks linked to innovation
Your projects
Developing your new product from the concept idea all the way to commercialisation.
Assessing ideas, concepts in relation to markets
Defining your project and designing R&D strategy
Connecting with the knowledge base (Universities, Research institutes and other experts)
Project development
Commercialisation and business development
Quazar Consulting: – Supporting innovation, your idea moves forward – By understanding the difference between research, product development and innovation, Quazar helps you focus on the 2 things that matter to your company : Integrating new knowledge, technologies and expertise in your company and monetising your R&D activities.